FLOATING DOWN THE RIVER

---
OUR BOAT
Here is our Ocean 34
Following Ian's death Heart's Content has been sold. However the new owners are keeping her on the Thames, so I may well see her occasionally and be able to remind myself of the lovely times that Ian and I spent on her.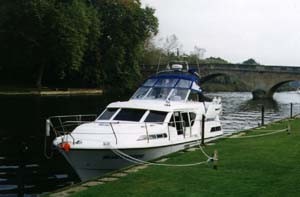 Our pride and joy is "HEART'S CONTENT", an Ocean 34 aft cabin cruiser built by Broom.
She is 34 feet (10.40 metres) long with a beam of 12ft 4in (3.80 metres), a draught of 3ft 2in (0.90 metres) and an air draught of 10 feet (3.00 metres) with the radar arch and canopy lowered. This can be reduced further to 9ft 3in (2.82 metres) by lowering the screens but we have never found the need to do this.
She is a semi-displacement boat with twin 100hp Volvo Penta diesel engines (TMD31L's). For most of our cruising on the non-tidal river it's not really necessary to have two engines but we had them installed because we intend to do more coastal work and trips across the English Channel. For those sort of trips it's comforting to have that extra engine. With this configuration the boat is capable of a maximum speed of 14 knots, but when fully loaded this reduces to 12 knots, with 10 knots being a comfortable and economical cruising speed at sea.
The two main sleeping areas, the aft cabin with its double berth and the forward cabin with its twin 'V 'berth arrangement, are separated by the saloon which has a pull-out settee that converts into another double berth making 6 berths in total.
The helm position is on the starboard side of the raised aft deck which is protected all round with solid GRP dodgers. The easily erected hood makes it a comfortable all-weather area. It has twin bucket seats with additional cushioned seating on top of the two port and starboard lockers situated at the aft of the deck making it a very pleasant area in which to entertain in the summer evenings. Between the lockers there is a ladder down to the bathing platform where we keep our inflatable tender on Weaver Snap Davits. Immediately to the left of the helm is a reasonable size chart table with a Perspex cover.
Access to the saloon is through a sliding clear Perspex door, situated on the port side of the helm, and down 4 steps. The settee, which is on the starboard side of the saloon, is 'C' shaped and can seat 6 people quite comfortably. On the opposite side are a full-length sideboard, with 3 separate cupboards, a TV cabinet and a sliding access door to the port deck. Headroom in the saloon is 6ft 2in (1.88 metres).
There are two steps down to the galley which is situated forward and to starboard. The galley has a good worktop area with a stainless steel sink unit and a 3-burner gas hob. Beneath the worktop are a gas oven and grill, small electric fridge and storage cupboards. At a pinch, two people can work together in the galley but it is more suited to one person.
Opposite the galley and to port is the second toilet compartment and shower where we opted for the installation of a chemical (Porta Potti) toilet for added flexibility. Forward again is the forward cabin with its 'V' berths and two wardrobes. Access to the anchor chain locker is obtained from the front of this cabin.
The aft cabin, in which we sleep, is reached from the rear of the saloon and down two steps. It has a tapered double bed, two wardrobes (one hanging and one shelves) and a dressing table. To starboard is the en-suite 'bathroom' with a separate shower cubicle. The electric sea toilet discharges into a holding waste tank when cruising on the river.
The joinery throughout the boat is light mahogany.
All the instrumentation is from the Autohelm ST 50 Plus Range, manufactured by Raymarine, and includes GPS, fluxgate steering compass (we also have a Plastimo Offshore traditional card compass fitted), Tridata (depth, speed and temperature), rudder indicator, Nav Plotter 100, radar and hand bearing compass. The VHF radio is an Icom IC-M59 which, at some time in the future, will have to be changed to comply with the Global Maritime Distress and Safety System (GMDSS).
The domestic 12-volt electricity on board is provided by two sets of 6-volt batteries wired in parallel (we have two separate 12-volt batteries for starting the engines). In addition, we have a 4Kw Fisher Panda generator, which gives us a 240-volt supply if we are not connected to shore power.
The boat has two fuel tanks, one for each engine, and each of 80 gallons (364 litres) capacity, with a system of valves that enable us to change the flow of fuel from one engine to another if necessary. It also has an 80 gallon (364 litres) water tank.
Heating is provided by an Eberspacher hot air system (fuelled by diesel) with an outlet in each cabin, while hot water is obtained through a calorifier (or by an immersion heater if we are connected to shore power or if the generator is on).

Copyright © The Harts