---
THE RIVER THAMES - ITS BRIDGES (CONTINUED)
Bridges of note over the TIDAL THAMES include:
(All widths and heights are given at Mean High Water Springs(MHWS))
RICHMOND BRIDGE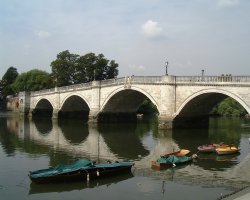 Richmond Bridge
A fine stone bridge built in classical style by James Pain and Kenton Couse in 1777 and frequently the subject of paintings in the 18th and 19th centuries. It has 5 semi-circular river arches clad with Portland stone with the largest centre arch being 18.3m (60'0") wide and 5.3m (17'5") high. It replaced an earlier ferry and was a toll bridge until 1859. It is the oldest surviving bridge over the tidal Thames. Between 1937 and 1939 it was widened on the upstream side but the original stones were removed to be re-used on the face of the widened bridge.
RICHMOND RAILWAY BRIDGE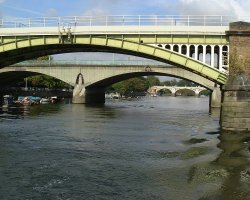 Richmond Weir (background), Twickenham Bridge (centre) and Richmond Railway Bridge (foreground)
IThe original cast-iron bridge was built in 1848 by Thomas Brassey to the design of Joseph Locke (Engineer to the London & South Western Railway) but the entire superstructure was renewed in 1908 to by the Horseley Bridge Company. In effect there are two separate steel arch bridges each carrying one line of track. The main girders and decking were replaced in 1984.
TWICKENHAM BRIDGE
This bridge, designed by MaxwellAyrton and built by Aubrey Watson Ltd in Ferro concrete, was completed in 1933 and opened by the Prince of Wales (later to become Edward VIII). It has five arches, three of which are over the River. It is 21.3m (70'00") wide and 376.5m (1235'00")long.
RICHMOND WEIR AND FOOTBRIDGE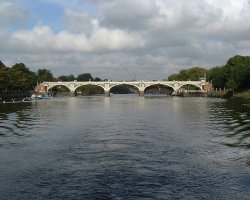 Richmond Weir and Footbridge
These twin footbridges, 2.74m (9' 00") wide and 4.88m (16' 00") apart, were constructed in 1894 and officially opened by the Duke and Duchess of York with the Lord Mayor of London in Attendance. Pedestrians may use the footbridges between 0630 and 2130hrs (BST) during the summer and between 0630 and 1930hrs (GMT) in the winter months. The tolls were removed in 1938.
Except for the period of two hours either side of high water, the sluices are lowered into the River from the roof (one in each of the 3 centre archs spanning the River) so that there is always at least 1.72 metres of water in the River between Richmond and Teddington. When the sluice are in their lowered position boats have to use the adjacent lock on the Surrey bank.
KEW BRIDGE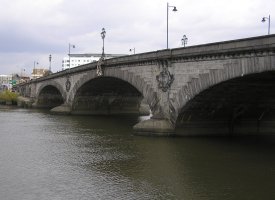 Kew Bridge
The first bridge at Kew was built in 1759 by John Barnard and was made of timber. A new bridge built in Portland Stone by James Paine was opened in 1789 by George III but because of increased traffic, a new bridge was required. It had three arches and was built in granite by Easton Gibbs, to a design by architect Sir John Wolfe-Barry and engineer Cuthbert Brereton, in 1903 and was opened by Edward VII. A plaque in the centre of the eastern balustrade commemorates this event. Although the bridge was named after the King, it has always been known as Kew Bridge.
KEW RAILWAY BRIDGE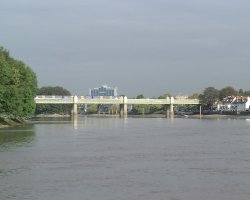 Kew Railway Bridge
This bridge, designed by W R Galbraith and built by Brassey & Ogilvie for the London & South Western Railway Company, has five arches each with a span of 35m (115'00") and was opened in 1869.
CHISWICK BRIDGE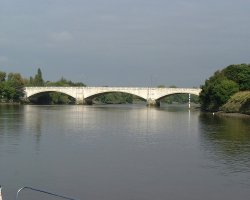 Chiswick Bridge
This reinforced concrete bridge clad with 3400 tons of Portland stone was designed by Alfred Dryland (Engineer) and Sir Herbert Baker (Architect). It is 21.3m (70'00") wide and 185m (607'00" long. It was opened by the Prince of Wales in July 1933.
BARNES RAILWAY BRIDGE
Barnes Railway Bridge
Barnes railway Bridge was built in 1849 by Joseph Locke and Thomas Brassey and is the oldest surviving bridge below Richmond. It was reconstructed in 1895 when a new adjacent bridge was brought into service. A footpath runs outside the main downstream girder and it was from here that many people congregated to watch the University Boat Race until, for safety reasons, it was decided to close the footpath on the day of the race.
HAMMERSMITH BRIDGE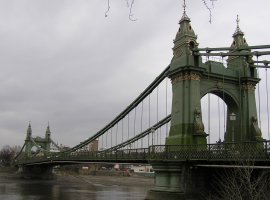 Hammersmith Bridge
This ornate Suspension Bridge, which has recently been repainted, was built by Sir Joseph Bazalgette (1818-1891) in 1887. It replaced the earlier suspension bridge built by William Tierney Clarke in 1827 which was the first suspension bridge built in London. The width between the piers is 122.1m (400'0") and is 3.7m (12'2") high.
PUTNEY BRIDGE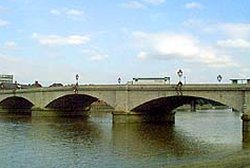 Putney Bridge
An impressive concrete and granite structure also built by Sir Joseph Bazalgette and opened by the Prince of Wales in 1886. It has 5 arches with the centre arch being 43.9m (144'0")wide and 5.5m (18'0") high. It replaced the earlier wooden toll bridge of 1729 which was damaged in 1870 and, as a consequence, had its centre arches replaced by a 70 foot long iron girder. This was the first river crossing over the tidal Thames west of London Bridge. Putney bridge is the start of the annual Boat Race between Oxford and Cambridge universities.
WANDSWORTH BRIDGE
Wandsworth Bridge, with its central span of 200 feet comprising seven high-tensile steel girders, was built between 1937-40 by Sir T Peirson Frank and replaced an earlier iron lattice bridge built by J H Tolme and opened in 1873 by Colonel Hogg MP. Above this bridge, the speed limit on the tidal Thames is 8 knots.
BATTERSEA BRIDGE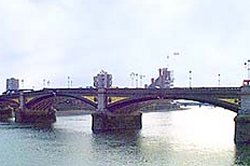 Battersea Bridge
An iron bridge of 5 segmental spans supported on granite piers, with the centre span being 49.7m (163'0") wide and 5.5m (18'0") high. Each span is formed by seven cast iron arches ribbed with wrought iron cross members. It was built in 1890, again by Sir Joseph Bazalgette, and replaced the earlier wooden bridge of 1772 designed by Henry Holland and much painted by Whistler and Turner.
ALBERT BRIDGE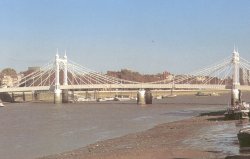 Albert Bridge
A suspension type Bridge (with a centre support added by the Greater London Council in the 1970's), and of somewhat Gothic appearance, originally designed by Rowland Ordish and completed in 1873. It was modified by Sir Joseph Bazalgette between 1884 and 1887 A sign still instructs Marching troops to break step when crossing the bridge to prevent it from swaying from side to side. The two centre spans are 55.5m (182'0") wide and 4.9m (16'0")high.
CHELSEA BRIDGE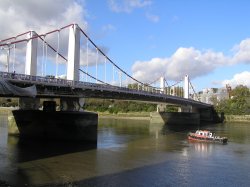 Chelsea Bridge
Another suspension Bridge, designed by G Topham Forrest and E P Wheeler, and built in 1937 but unlike the Albert Bridge there is no need to 'break step' when crossing. As such a large amount of Douglas Fir from British Columbia was used in the Roadway, the bridge was opened by Mr Mackenzie King, the Prime Minister of Canada. The width between the piers is 101.2m (332'0") and is 6.6m (21'8") high. It replaced an earlier suspension bridge built by Thomas Page and opened by the Prince Of Wales in 1858.
VICTORIA RAILWAY BRIDGE (GROSVENOR BRIDGE)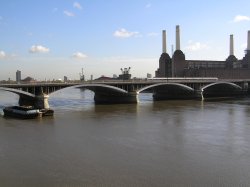 Victoria Railway Bridge (Grosvenor Bridge)
This bridge has 4 arches, each 53.1m (174'3") wide and 6.0m (19'8") high. When originally built in 1859 it was the first railway bridge to be built over the Thames in London. It was widened in 1866 and again in 1907 and between 1963 and 1967 the entire structure was replaced. In effect it is ten separate bridges each carrying one line of track.
VAUXHALL BRIDGE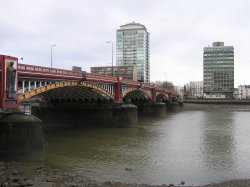 Vauxhall Bridge
(Facing Downstream)
The first bridge designed by James Walker was opened in 1816 and was the first iron bridge to cross the Thames. The cost of repair in the late 1800's was very expensive so in 1904 work started on a new bridge designed by Sir Maurice Fitzmaurice and W E Riley, which was opened by the Prince of Wales (later to become King George V) in 1906. It was the first bridge in London to carry trams. It has 5 steel arches supported on granite piers which are adorned by larger than life size bronze statues sculptured by Frederick W Pomeroy and Alfred Drury. Looking downstream, the figures represent Government, Education, Fine Art and Astonomy. The figures facing upstream represent Agriculture, Architecture, Engineering and Pottery.
LAMBETH BRIDGE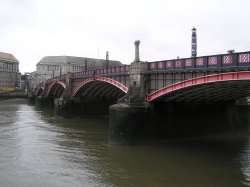 Lambeth Bridge
Permission to build a bridge here was first sought from Parliament in 1664 but was refused because of strong opposition from the Company of Watermen. The current bridge of 5 steel arches supported on granite piers, was built in 1932 by Sir George Humphreys with architectural support from G Topham Forrest and Sir Reginald Blomfield. It was opened by King George V and Queen Mary. It replaced an earlier suspension bridge built in 1862 by P W Barlow which because of strength problems, was limited to pedestrians in around 1908.
WESTMINSTER BRIDGE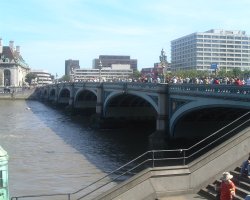 Westminster Bridge
This bridge of 7 cast iron arches on granite plinths, was built in 1862 by Thomas Page. It replaced the 15 arched stone bridge erected in 1750 by the Swiss engineer, Charles Labelye, which was the first bridge to be built across the Thames in central London after London Bridge. The centre arch is 36.4m (119'5") wide and 5.4m (17'8") high.
As the Palace of Westminster (the Houses of Parliament) is situated between Westminster and Lambeth Bridges, Lambeth Bridge is painted predominately red to represent the House of Lord's benches whilst Westminster Bridge is painted green to represent the House of Common's benches.
HUNGERFORD (CHARING CROSS) RAILWAY & FOOT BRIDGES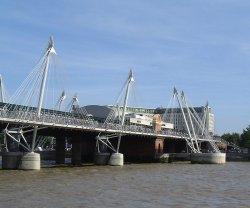 Hungerford Bridges
In 1840 Brunel built a suspension bridge across the River at this point but it was replaced by the current bridge in 1864. The chains from the first bridge were however, used in Brunel's Clifton Suspension Bridge across the River Avon in Bristol.
Two new footpaths, one on either side of the original bridge, and designed by Lifshutz Davidson, have been constructed and were opened to the public in 2002.
WATERLOO BRIDGE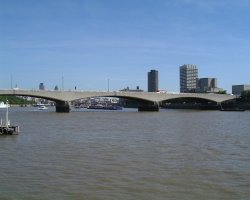 Waterloo Bridge
A plain but elegant 5 arched reinforced concrete bridge faced with Portland stone, designed by Sir Giles Gilbert Scott and built mainly by women during the Second World War. Despite bomb damage, it was completed in 1942 but was not formally opened until 1945. Each arch is 72.5m wide (237'10") and 8.5m (27'11") high. It spans the River as it curves around into King's Reach and therefore, from the bridge, the views both up and down the River are unrivalled. It replaced the elegant stone bridge of nine elliptical arches built by John Rennie (1761-1821) and opened on 18 June 1817, the second anniversary of the Duke of Wellington's battle at Waterloo - hence its name. It was originally called Strand Bridge.
BLACKFRIARS BRIDGE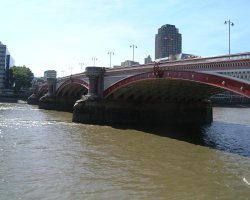 Blackfriars Bridge
Originally, a three arched bridge designed by Thomas Page was chosen to replace the earlier stone clad bridge built in 1769 by Robert Mylne but at about the same time The London, Chatham & Dover Railway Company obtained authorisation to build a new railway bridge adjacent to the proposed new road bridge. This railway bridge needed five spans and as the Thames Conservators insisted upon the piers of the two new bridges being in line, it was decided that the new road bridge would also have five spans. As a consequence, the engineer Joseph Cubitt was appointed to design both bridges. This new road bridge was opened in 1869 by Queen Victoria. It features stone pulpits between iron arches which commemorate the 13th century Dominican Monastery which gave its name to Blackfriars. The bridge was widened in 1910.
BLACKFRIARS RAILWAY BRIDGE
Blackfriars Railway Bridge
For the railway bridge, which was to carry four lines of track, Joseph Cubitt designed and built a wrought iron lattice girder bridge on masonary and cast iron cylindrical piers which was opened in 1864. Some twenty years later, more lines were required but the bridge could not be widened so a further bridge was built. It was 81 feet wide, carried seven more lines and matched the spans of the other two bridges. It was built by the railway company's engineer, W Mills, assisted by John Wolfe Barry and H M Brunel (I K Brunel's second son). It was opened in May 1886. In 1923 the railway company became part of Southern Railway which concentrated its mainline services on Victoria and Waterloo and as a consequence not all the lines into Blackfriars were required. As a result the superstructure of the earlier railway bridge was dismantled in 1984. However, the piers remain and can be seen in the photograph upstream of the bridge.
MILLENNIUM BRIDGE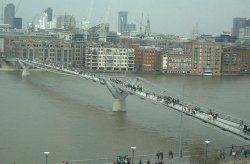 Millennium Bridge
A new 330 metre long and 4 metre wide footbridge, called the Millennium bridge, was constructed across the Thames, at a cost of £18m, to enable pedestrians to cross the River from St. Paul's Cathedral to Tate Modern (the new Tate Gallery of Modern Art) on the south bank. It was officially inaugurated, in advance of completion, by Queen Elizabeth II on 9 May 2000. The Queen was accompanied by The Lord Mayor of London and The Mayor of Southwark.
It was opened to the public in June 2000 but was closed soon after for technical reasons - it swayed as people walked over it. The architects, Foster & Partners and the engineers, Ove Arup & Partners, rectified the problem by installing dampeners along the underside of the bridge at cost estimated to be in the order of £5m. It was re-opened to the public on 22 February 2002.
It was described in the press as 'the first new bridge to cross the Thames since Tower Bridge was built...' This was not the case (see the River Thames - Bridge Statistics pages for dates when bridges were built or opened). It was, however, the first new bridge crossing in Central London, since that time.
SOUTHWARK BRIDGE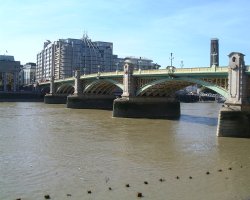 Southwark Bridge
Southwark Bridge, with its 5 spans, was designed by Sir Ernest George (architect) and Basil Mott (engineer) and opened by George V on 16 June 1921. It is reputed to be London's least used bridge. It replaced an earlier bridge built in 1819 by John Rennie which was famous for having the longest cast iron span ever made at 72 metres (240ft).
CANNON STREET RAILWAY BRIDGE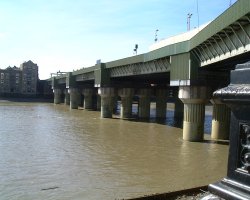 Cannon Street Railway Bridge
The first railway bridge on this site was designed by Sir John Hawkshaw and had five spans and had a footpath on either side, the upstream one being open to the public. In 1889 the bridge was widened by Francis Brady to accommodate more lines and in the process the public footpath had to go. Since then the bridge has been rebuilt twice with the current bridge being built in 1981 by British Rail.
LONDON BRIDGE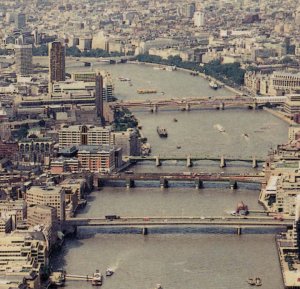 London Bridge in the foreground with Cannon Street Railway, Southwark and the two Blackfriars Bridges behind. Waterloo Bridge can just be seen on the bend.
Until 1729 (when the first Putney Bridge was built) London Bridge was the only bridge over the River Thames in London. The first recorded wooden bridge was built by the Saxons but it is thought that the Romans also had a crossing before then. The wooden bridge was replaced by a stone structure in 1176. This nineteen arched bridge, with its houses, shops and church (dedicated to St.Thomas Becket), acted as a partial barrier across the Thames allowing the River to freeze over. This bridge was replaced in 1831 by the five arched classical granite bridge initially designed by John Rennie (1761-1821) and completed by his son Sir John Rennie (1794-1874). It was opened by King William IV and Queen Adelaide.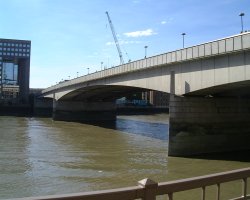 London Bridge
Because of increased traffic this was also replaced by the current 3 span pre-stressed concrete bridge designed by Mott, Hay and Anderson which was opened in 1973 by Queen Elizabeth II. It is London's widest road bridge at 32.0m (107'0"). The centre span is 99.4m (326'2") wide and is 8.9m (29'2") high at the centre.
Rennie's Bridge was bought by the McCulloch Oil Corporation of America for $2.46 million who shipped its 10,246 pieces of stone across the Atlantic and had it re-erected, piece by piece, over Lake Havasu in Arizona.
TOWER BRIDGE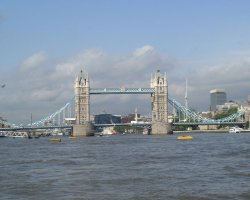 Tower Bridge
This, the most famous bridge across the Thames, was designed by Sir John Wolfe-Barry and his assistant, Isambard Brunel (son of Isambard Kingdom Brunel). It was opened in 1894. The width between its Gothic Towers is 61.0m (200'2"). It is 8.6m (28'3") high with its bascules down but this is increased to 42.5m (139'6") with the bascules raised. Each bascule weighs over 1000 tons but the original steam-driven hydraulic engines that raised them was replaced by electric motors in 1976. Although 24 hours notice is required to raise the bascules, which are capable of being raised in about 90 seconds, during busy summer months the bridge can be lifted at least once per day. The Bridge is open to the public and is worth a visit especially to see the view from the latticed footway and to see the machinery. In 1952, it opened while a London bus was still crossing the Bridge. The driver accelerated quickly and 'jumped' the gap, saving both his bus and passengers.
QUEEN ELIZABETH II BRIDGE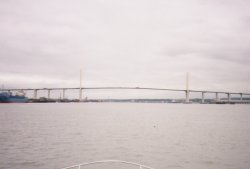 Queen Elizabeth II Bridge
Not only is this the last bridge downstream to cross the River it is also the last road bridge to be built over the Tidal Thames (1991). It is a cable supported bridge and is 54.1m (177'6") high and has a span of 400m (1312'4"). Overall the bridge is over two miles long and carries the the southbound traffic of the M25 motorway (the northbound traffic uses the Dartford tunnel beneath the Thames). Its twin towers rise some 130m (450ft) above the River.
PROPOSED THAMES GATEWAY BRIDGE
A new bridge across the River at Galleons Reach between Becton and Thamesmead is being proposed by Transport for London. At this point the River is 650 metres wide. The design of the bridge will be subject to quite considerable constraints. It has to be at least 50 metres high to allow ships to pass freely beneath it but it must also be less than 70 metres in overall height as it is on the approach to London City Airport. This ruled out a conventional suspension bridge. A lifting bridge has also been rejected because of the delays it would cause to traffic using the bridge. It is estimated that it would cost in the order of £455 million.
The results of the public consultation, which ended in August last year (2003), appear to have been favourable and therefore the Department for Transport has announced financial support for the proposal which, together with toll revenue, will cover the construction cost of the bridge. The bridge will be constructed and operated by a private sector company in partnership with Transport for London (TfL), using a PFI structure.
The Planning application for the Thames Gateway Bridge scheme was submitted to the London Boroughs of Greenwich and Newham on 22 July 2004 and planning permission was granted by the two Boroughs on 14 and 15 December 2004 respectively. TfL has also applied for a range of powers from Central Government and other agencies that are required to build the Bridge. The Secretary of State will hold an inquiry into these applications commencing 7 June 2005 at Charlton Athletic Football Club.
If it were decided to build the bridge the likely opening date would be 2012.
This is an artists impression of the design currently being considered:
To return to the start of the Bridges page Click Here
| | |
| --- | --- |
| | The River Thames - Bridge List & Statistics. |
| | To return to The River Thames page. |
Copyright © The Harts