FLOATING DOWN THE RIVER

---
GORING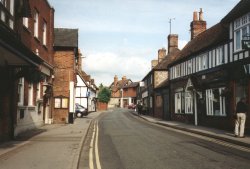 The village of Goring is situated in one of the most spectacular parts of the Thames Valley. Millions of years ago the river cut its way through the chalk to form a gorge which is known as the Goring Gap. Its steep walls are now covered with trees, so much appreciated that it has been designated an 'Area of Outstanding Natural Beauty'. On the north side of the river is Oxfordshire and the Chiltern Hills, on the south is Berkshire and the Berkshire Downs.
For those who are fit and healthy, a walk across the bridge and up the hill to Streatley, Goring's neighbouring village and on up to the scenic viewpoint on Lough Down, will be rewarded by a magnificent panoramic view of the river and Goring Gap.
Goring has a long history. Archaeological evidence has been discovered of Saxon, Roman, Bronze Age and even going back as far as the Neolithic period. Its importance is due to it strategic siting. It is the crossing point of two ancient routes. The Ridgeway, which was the great trade route of pre-history, is now a 85 mile long-distance walk stretching from Marlborough in Wiltshire to Ivinhoe in Buckinghamshire. The Icknield Way was a track improved by the Romans during their occupation of Ancient Britain. It runs from near Wantage in Oxfordshire to Dunstable in Bedfordshire.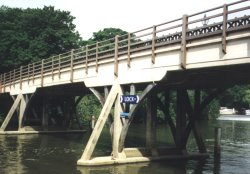 Once these important routes would have crossed the river by way of a ford or a ferry, now this can be achieved by using the bridge, linking Goring with it's neighbouring village, Streatley. The present bridge was built in 1923, a replica of the earlier wooden bridge. It was also at that time that it ceased to be a toll bridge.
Goring is a very welcoming place for boaters. There is a long stretch of free and popular moorings below the lock.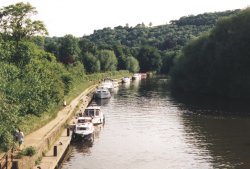 Frequently during a weekend a local resident will hand out a useful map and directory of local services.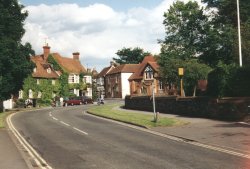 Although the village isn't visible from the river it is only a few minutes walk to the centre where there is a reasonable range of shops and three good pubs that provide meals, the Miller of Mansfield,(the ivy covered building seen here on the left) The John Barleycorn and The Catherine Wheel. We've had good meals in all three.
Goring holds many events that will entertain its visitors. One of the most unusual is the Medieval Mystery Play that is performed in May. The streets are closed to traffic, a small stage is erected in the middle of the road and local residents perform scenes from the Bible. An interesting and colourful event.
Later in the year, usually in July, the Goring and Streatley Regatta is held just above Cleeve lock(the next lock upstream of Goring Lock). It was first held in 1887 and its mixture of serious racing and fun events for all the family has helped retain its popularity.
---
Click here to return to:
Copyright © The Harts