FLOATING DOWN THE RIVER

---
THE RIVER THAMES - TIDAL NAVIGATION
BRIEF NOTES ON NAVIGATING THE TIDAL THAMES
JURISDICTION
Navigation on the tidal Thames, from just below Teddington Lock to the sea, is controlled by the Port of London Authority (PLA) who have a number of boats patrolling the River. They operate from two Port Control Centres, Gravesend and Woolwich.
| | |
| --- | --- |
| | |
| A PLA Harbour Master's Launch | The PLA out on Patrol |
In 2007 2 catamarans were added to the fleet. These new patrol boats, Chelsea and Richmond are designed to use less power and cause less water disturbance than conventional river patrol boats. Also their low sides are designed to make communication with rowers and other boat owners a little easier.
Chelsea, one of the latest patrol vessels
The Chief Harbour Master is based at Gravesend but general enquiries should be addressed to:
Port of London Authority
Baker's Hall
7 Harp Lane
London
EC3R 6LP

Telephone: 0207 7437 900
The Port of London Authority have produced a booklet 'The Tidal Thames - A Guide for Users of Recreational Craft' containing lots of useful information. Before venturing onto the tidal Thames it would be advisable to obtain a copy, free of charge, from the above address.
RICHMOND WEIR & TIDES
Teddington is the limit of the tidal Thames but the three miles between Teddington and Richmond are only truly tidal for about 2 hours before and 2 hours after high tide. That is when the three separate vertical weir gates (one in each navigation arch) of Richmond Footbridge are raised. At all other times the weir gates are lowered into the water which means that there is always a minimum depth of 1.72 metres of water between Teddington and Richmond.
When the weir gates are lowered, three red discs (red lights at night) in a triangular shape are displayed under each arch to indicate that navigation through them is not possible. There is a lock that can be used when the gates are down but it is advisable to avoid it within 2 hours before and about 30 minutes after low tide as water levels below the lock can be very low indeed at this time and there will be a risk of grounding. This lock, which is under the control of the PLA, is now free for pleasure craft. The telephone number of the lock is 020 8940 0634.
In 2008 the PLA enhanced river safety at Richmond Lock and weir by installing new electronic message boards. The signs allow PLA staff to send navigation instructions direct to boaters. Older signs carried a fixed message warning of the closure of the weir. The new ones can be programmed with a variety of operational and safety instructions and as they are lit by LED can be seen from further away and from a wider angle.
High tide at Richmond is about 1 hour after high water at London Bridge with low tide being between 3 and 3½ hours after low water at London Bridge. Tide tables for London Bridge are readily available as it is a Standard Port. To see the PLA Tide Tables page Click Here
For tidal predictions for various locations on the River Thames (Albert Bridge, Hammersmith Bridge, Kew Bridge, London Bridge, Richmond Lock, Sheerness or Tilbury) issued by the UK Hydrograhic Office Click Here
SAFETY
Before making the journey down the tidal Thames, study the tide tables and prepare a detailed passage plan. If you can, choose a calm clear day and if possible avoid Spring tides. You should ensure that the boat is seaworthy, has a reliable engine(s) with sufficient power, has adequate fuel and has an anchor and warp.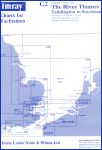 Imray Chart C2
It is advisable to wear life jackets and a chart is a must as there is considerable shoaling in the upper reaches of the tidal Thames particularly above Wandsworth Bridge. A useful chart is Imray's chart C2 which covers the Thames from Teddington to Southend. In these upper reaches it is advisable to keep as close to the centre of the channel as possible and keep away from the banks even where shoals are not indicated on the chart but regard must be had to the Rules of the Road which require vessels to keep to the right and pass oncoming vessels port to port. On the remainder of the tidal Thames it is essential to keep to the correct (right hand) side of the River.
It should be noted however, that between Richmond Footbridge and Fulham Railway Bridge, special rules for rowing boats have been agreed as it is not always safe and practicable for them to keep to the starboard (right hand) side of the river. Consequently, when proceeding against the tide, rowers may be on the "wrong" side of the river. It is therefore essential to keep a good lookout for rowers when travelling on this part of the river and if necessary slow down or stop.
Although the PLA have specially designed vessels (all called 'Driftwood') to collect the rubbish that accumulates in the River, floating debris, especially plastic sheeting, remains the greatest nuisance to pleasure craft on the tidal Thames particularly from Kew downstream to below the Thames Barrier. It is essential to keep a good lookout as much of the debris floats just below the surface of the water.
Always keep an all round lookout (both ahead and astern) for commercial vessels and whenever possible keep well clear of them as they may have difficulty in manoeuvring or stopping. They may also be confined to the deeper parts of the channel.
Tides and winds combined can create quite an unpleasant and lumpy surface to the River and wash from passing commercial vessels can also be quite daunting especially while waiting to enter one of the locked marinas.
If travelling at night, which is not recommended unless you are very experienced, full navigation lights will be required.
SPEED LIMIT
Between Teddington and Wandsworth Bridge there is a speed limit of 8 knots through the water. However, even at 8 knots considerable wash can be created and therefore in the vicinity of smallcraft, particularly rowing boats, speed should be reduced even further.
Below Wandsworth Bridge there is no limit but speeds should be relevent to local conditions and adjusted to ensure there is no damage to persons or property from excessive wash. It is unlikely that speeds in excess of 10 knots will be appropriate until in Sea Reach. Causing damage through excessive wash is an offence with a fine up to £2500. All PLA and Police boats are equipped with Radar Guns.
BUOYAGE
Buoyage on the River Thames, of which there are two systems, is in accordance with system agreed by the International Association of Lighthouse Authorities (IALA).
(i)Lateral Buoyage System.

The lateral buoyage system indicates the edges of a channel when entering a harbour or navigating a river. Confusingly, IALA has agreed two colour conventions, one the exact opposite of the other, for use in different regions of the world. The Convention used on the Thames follows that for Region A (Europe) which is:

| | | |
| --- | --- | --- |
| | Port Hand Marks | Located on the port side of the channel or river going UPSTREAM or into harbour. |
| | Starboard Hand Marks | Located on the starboard side of the channel or river going UPSTREAM or into harbour. |

(ii)Cardinal Buoyage System.

The cardinal buoyage system indicates the direction of clear water from a hazard. Marks are pillar or spar buoys, with yellow and black bands.

| | |
| --- | --- |
| | |
| Cardinal Buoys | |
BRIDGES
The channels available for navigation through bridges are marked by two horizontal orange lights situated at the top of the arch or span. If an arch or span is closed to navigation it will be marked by a triangle of three red discs (or three red lights at night) apex downward. If the headroom is restricted, due to repair or maintenance, the arch or span will have a bundle of straw, yes straw, suspended from its centre. At night the straw is replaced by a white light.
When work is required on a bridge and the works are likely to affect river traffic, advance notification will be given in a Notice to Mariners. Whilst the work is being carried out, London VTS (previously called Woolwich Radio) on Channel 14 will also give details in its routine broadcasts. In both these cases, arches or spans will be referred to by number. All bridge arches or spans are numbered from the north bank to the south bank. All vessels must obey any instuctions given by London VTS or any authorised Control Vessel in the vicinty.
A flashing white light in the centre of an arch or span (either by day or night) means that a large vessel is approaching the bridge. It may be coming in either direction so keep a good lookout and, if necessary, give way. It will have priority.
A boat approaching a bridge against the tide should give way to any other boat approaching with the tide but remember that it is always advisable to keep clear of all commercial vessels, in any situation, as they may have difficulty in stopping or altering course.
MOORINGS
The tidal River is essentially a commercial waterway and consequently there are few opportunities for pleasure craft to moor below Teddington. In the summer months all the piers are reserved for trip boats and water buses. However, there are private moorings at Chiswick Pier and Chelsea Harbour Pontoon (both have all tide access) but it is advisable to contact them in advance. There is also St. Katharine's Haven, Limehouse Basin, South Dock Marina and Gallions Point Marina below Tower Bridge but all of these facilities are locked and are therefore only accessible at certain times. St. Katharine's is open from 2 hours before high water to 1½ hours after and Limehouse is accessible for 3 hours either side of high water. South Dock is accessible for 2 hours either side of high water for boats of 2 metre draft and 3 hours eiter side of high water for boats of 1 metre draft. Gallions Point Marina is open for the longest period - for 5 hours either side of high water.
Contact numbers are as follows:
| Marina | Telephone | VHF |
| --- | --- | --- |
| Chiswick Pier | 020 8742 2713 | n/a |
| Chelsea Harbour | 020 7225 9100 | Ch.80 |
| St. Katharines | 020 7481 8350 | Ch.80 & M |
| Limehouse | 020 7308 9930 | Ch.80 |
| South Dock | 020 7252 2244 | Ch.M & 80 |
| Gallions Point Marina | 020 7476 7054 | Ch.13 |
VISUAL SIGNALS
When divers are down, the 'A' flag is flown from the support boat. Alternatively, it may be flown from a nearby jetty with a smaller red flag flown where the diver is actually down.
| | |
| --- | --- |
| | Flag 'A' (Alfa) |
Another signal often seen on the Thames are the flags 'R' over 'Y' displayed on working craft or river works. It means reduce speed and wash.
| | |
| --- | --- |
| | Flag 'R' (Romeo) |
| | Flag 'Y' (Yankee) |
Vessels containing dangerous cargo display a red flag. All veesels should maintain a distance of half a mile from any vessel displaying such a flag.
| | |
| --- | --- |
| | Flag 'B' (Bravo) |
SOUND SIGNALS
The following sound signals are used by power driven vessels to indicate their intended actions:
| Signal | Meaning |
| --- | --- |
|  | I am altering my course to STARBOARD |
|  | I am altering my course to PORT |
|  | My engines are going ASTERN |
|  | Your intentions are not clear |
|   | I am turning round with my bow swinging to STARBOARD |
|   | I am turning round with my bow swinging to PORT |
| __ | I am about to get underway |
| __ __  | I am about to overtake on your STARBOARD side |
| __ __  | I am about to overtake on your PORT side |
 means a short blast of about 1 second duration
__ means a long blast of about 4-6 seconds duration
THAMES FLOOD BARRIER

The Thames Flood Barrier consists of nine piers numbered 1 to 9 from north to south and ten spans lettered A to K from south to north.
| | |
| --- | --- |
| | |
| Plan of Thames Barrier | |
Spans B to G are generally open to navigation while Spans A, H, J and K are permanently closed to navigation. Under normal circumstances, the northern spans E, F and G are used for inward bound traffic and the southern spans B, C and D will be used for outward bound traffic.
All vessels fitted with VHF radio and which intend to transit the Barrier, must obtain permission to proceed when passing Margaretness Point inward and Blackwall Point outward by calling London VTS on Channel 14. London VTS will advise which span to use.
Small vessels (under 20 metres in length) not fitted with VHF radio should navigate inwards through the northern most span and outwards through the southern most span that is open to navigation. Spans B and G have a minimum depth of water of 1.2 metres below Chart Datum.
The Thames Barrier is closed once every month for maintenance and testing. Listed below are the times the Barrier will be closed to navigation. Most closures are for approximately 2½ hours over the respective low waters. However, one of the closures each year is for a 10 hour period and this closure is marked by an asterisk. The amber lights on top of the barrier warning notice boards at Barking (below the Barrier), and at Brunswick and Blackwell Point (above the barrier), will operate 30 minutes before each closure, and the red flashing lights on commencement of closure until the barrier re-opens for navigation.
| Day | Date | Time |
| --- | --- | --- |
| Monday | 8 August 2005 | 0930 - 1200 |
| Tuesday | 6 September 2005 | 0905 - 1135 |
| *Sunday | 16 October 2005 | 0625 - 1625* |
| Monday | 7 November 2005 | 0930 - 1200 |
| Monday | 5 December 2005 | 0835 - 1125 |
| Tuesday | 3 January 2006 | 0905 - 1135 |
| Wednesday | 1 February 2006 | 0905 - 1135 |
| Thursday | 2 March 2006 | 0845 - 1115 |
| Tuesday | 18 April 2006 | 1005 - 1235 |
The times listed are local times but may vary for a number of operational or weather reasons. The closure and re-opening may commence up to an hour before the times listed. The Thames Barrier infomation Centre ( Tel: 020 8305 4188) may be contacted the day before a planned closure to check that it is still going ahead as scheduled. Furthermore, the closure will be confirmed and promulgated from London VTS from 24 hours in advance in their routine broadcasts on VHF.
RADIO WATCH
Finally, if you have a VHF radio, which is mandatory for all vessels over 20 metres in length and advisable for all other vessels, keep a listening watch on Channel 14 between Teddington and Crayfordness (the Upper River Sector), Channel 68 between Crayfordness and Sea Reach No. 4 Bouy (the Lower River Sector) and on Channel 69 (previously Channel 12) beyond Sea Reach No. 4 Bouy (the Estuary Sector). The callsign for all these channels is now 'London VTS' and NOT 'Woolwich Radio' or 'Port Control London' as previously used. Navigation information is broadcast every half hour on these channels. If your radio has a dual watch facility, you should also monitor channel 16.
| | |
| --- | --- |
| | |
| London VTS Sectors | |
All vessels over 20 metres in length must carry a VHF radio but there are special arrangements for narrow boats over this length in transit between the Grand Union Canal at Brentford and Teddington Lock. Such vessels, without VHF, should telephone the PLA Duty Officer at Woolwich on 020 8855 0315 immediately before and again on completion of the transit.
EMERGENCIES
In an emergency make a MAYDAY or PAN PAN call on Channel 16 (NOTE: VHF Digital Selective Calling (DSC) alert on channel 70 is NOT available at London Coastguard), and give your position relative to landmarks. Your call will be picked up by either London or Thames Coastguard (depending upon where you are on the Thames). Both these stations will continue to maintain a listening watch on channel 16 for the foreseeable future. Above Gravesend, any vessel in need of assistance can call 'London VTS' (on channel 14 or 68 as appropriate), who are in direct contact with London Coastguard.
If for any reason you haven't got a VHF radio you can telephone London Coastguard on 020 8312 7380 or Thames Coastguard on 01255 675518 or you can dial 999 and ask for the coastguard.
The Marine Support Unit of the Metropolitan Police at Wapping can be contacted on 020 7275 4421 or again, in an emergency dial 999 and ask for the police.
To return to The River Thames page Click Here
Copyright © The Harts